Moab, Utah
Located in the southeastern desert of Utah lies the incredible city of Moab. Before arriving, I imagined an area that mainly catered to mountain bikers but little did I know there is a whole lot more. There are national parks such as Arches and Canyonlands within easy driving distance. And if this isn't enough, the Colorado River flows nearby as well. So whether you are a biker, hiker, rafter, four-wheeler or all of the above there is plenty to do in this desert oasis. A day can be spent biking in the morning and spending the afternoon visiting one of the many parks in the area. Moab has plenty of comfortable motels and tasty restaurants. Along the main drag in town you can load up on souvenirs, people watch or eat and drink in one of the many restaurants and watering holes. And of course there are some nice bike shops as well who will be happy to explain the many trails in the area. I found all of the people in Moab to be very friendly and helpful.
(Click thumbnail for larger view. Click the "X" in top right corner to close the window)

A view of downtown Moab. Make sure to check out the Moab Information Center, sign is to your right, which is an excellent reference for learning about the history and all the area has to offer. The employees are very knowledgeable about the area and the bike trails as well.

Here is a typical site in Moab. It's hard to believe that Mother Nature formed these incredible walls of stone.

The Colorado River runs right next to the city so there are plenty of water sports to partake in. Rafting is huge in the area.

But now time for the biking. Here is a shot of the world famous Moab Slickrock Bike Trail. Now we were warned about how difficult it is but we had to find out for ourselves. The trail is marked by white dashes, like other trails in the area, so it's easy to follow but be ready for extreme up's and down's. This area requires excellent riding skills. If you are up to the challenge, try the trail in the early morning since temperatures can reach in the 100's during summer. A trails difficulty in Moab is measured by how much water is recommended to bring. Make sure to fill the water bladder to the brim and don't forget the Power Bars. Quite a few people have become lost and have run out of water and that's a recipe for disaster in this extreme climate. Click here for the current weather in Moab.

This hill gives you an idea of what to expect. There are many skilled riders that can handle the terrain but for those of you new to the sport or just want to stay in one piece do be careful. It's better to be safe than sorry! The sandstone hills tend to be very hard and unforgiving.

Now here is a trail worth checking out! The Klondike Bluffs Trail is rated intermediate and it's a whole lot of fun. It has both slickrock, pictured above, and jeep trail. The singletrack in Moab is limited but the jeep trails are more like doubletrack with a mixture of red dirt and slab rock that makes them both challenging and fun. A dual- suspension bike is highly recommended!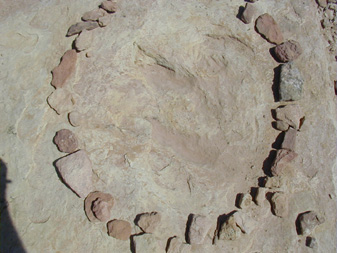 Yes there were dinosaurs roaming the planet millions of years ago. This foot print has been weathered over time but you can still make out the outline. Sorry I don't know what type it was but probably not a very big one.

Another trail we rode was the Gemini Bridges Trail. This one is considered a beginners trail and it's very popular due to it's gentle terrain and vistas. The shot was taken from on the bridges looking down into Bull Canyon.

Yours truly on the left and some traveling companions for a 1/2 day bike trip we took. Bike tours are a great way to explore and find out about the area from a local. The trip included a shuttle ride to the top of the trail so it spared us an uphill. Make sure you are in good shape before going to Moab as your endurance will be tested. Our trail guide Martin, on the right, was from San Francisco who said he couldn't find better biking than in Moab country. I couldn't argue with him.

Here is a shot from Arches National Park. Its located right above the City so it's very easy to get to.
So there you have a good introduction to Moab but there is a whole lot more. I just barely scratched the surface exploring the trails and parks in the region. Trinity from the Moab Brewery, the best watering hole in town, said that the Porcupine Rim Trail was the best downhill around but we didn't have time to check it out. Moab was all it was cracked up to be and more. It took us 11 hours by car from LA but it was well worth the trip.
Click here for more Moab info!
Back to Top