Limestone Canyon
Limestone Canyon is one of the crown jewels of the Santa Ana Mountains and is located off of Santiago Canyon Drive just south of Blackstar Canyon Rd. Public access is restricted but thanks to the Irvine company and a non profit organization, The Nature Conservancy, we can all enjoy this unspoiled land. This area along with Freemont Canyon and Laguna Coast Wilderness Park are still owned by the Irvine Company but are protected from development and will eventually become public lands. Laguna Coast Wilderness Park is already open to the public on weekends. The Conservancy offers biking, hiking and equestrian tours of these areas but reservations must be made in advance. The docents are all experienced riders who know the areas well and are very concerned about protecting Orange County's remaining open spaces. It's a great way to ride because you won't get lost and you will also get to meet other friendly folks with common interests.
The Limestone Canyon ride is a 10-15 mile fairly strenuous non technical ride. You won't find any single track, but there are uphill climbs, if you like that, and some nice fire road and double track.
(Click thumbnail for larger view. Click the "X" in top right corner to close the window)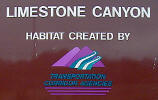 Now this sign is a tad confusing. I thought the Canyon was created way before the Transportation corridor.

The past winter was very dry. Normally during May there would be grasses and flowers everywhere. There are some incredible vistas in this area that you will shortly see.
This is called the Grand Canyon of Orange County.

There are still a few traces of the Indians who lived in the area hundreds of years ago. We weren't the first ones.

A taste of the downhills on the trail. This is a great trail that I will do again.


Now this picture is interesting for a couple of reasons. One because it's a great natural mosaic, and secondly because it's a public warning notice. The bright green is Poison Ivy. Remember, "Leaves of 3, Let it Be!"

This shot is of Limestone Canyon Ridge. The ride takes about 2 to 3 hours to complete. If you continue along the fire road, you can add another 45 minutes but it depends on the group.
To sum it up, the trip to Limestone Canyon was like a trip back in time. Within the next few years, hundreds of homes are going to built along Santiago Canyon Drive so now is the time to get out and enjoy these areas. There is also the Freemont Canyon tour, but that trip is more strenuous according to the docents. So try Limestone first, and then if you are up to the challenge, go for It!
Phone for the Conservancy (714) 832-7478